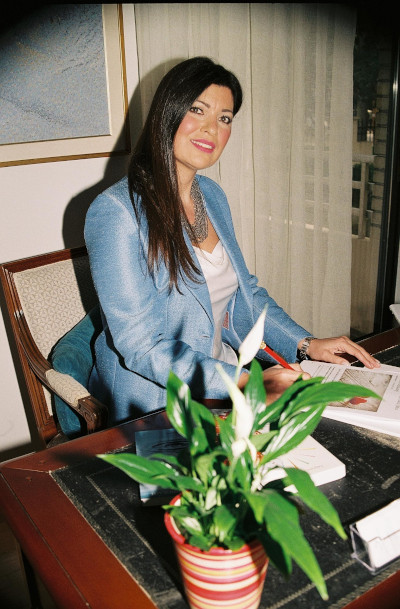 My Resume, Elsa Dimopoulou
I studied Applied Social with Clinical Psychology at Kent University, England and I am listed as a professional psychologist under the 4914/05-02-09 License Listing Number. I continued with my studies at King's College where I got a postgraduate diploma on Child-Art Psychotherapy. I got my second postgraduate diploma on Relationship Counseling in Hull, London. I have worked as a child psychologist at the educational organization "Place to Be" where I was in charge of the Counselling Services in primary schools. Furthermore, I have worked at the Child Psychiatric Clinic of Guy's Hospital, London.
Papers of mine entitled "Story-telling Techniques for the Assessment of Children's Emotional and Behavioural Problems" have been published in the book "Play Diagnosis and Assessment". In Greece, I hold my private practice as a psychologist, child psychologist and counsellor on Vocational Guidance for both adolescents and adults and at the same time, I teach the seminar "Child-Art Psychotherapy" following the principles of Vera Vasarhelyi's Method at the Centre of Lifelong Learning "Psychopedia".
I also teach the "Management of Children's Emotional Difficulties via Art Therapy" seminar at the same Centre.
Additionally, I work with "Paidion Pleusi", a Centre of Special Therapies for children,adolescents and parents.
I am also a pioneer of an educational programme for company employees. I have been trained in Cognitive Psychotherapy at Aiginiteio Hospital and in Vocational Orientation Counselling at the ISON PSYCHOMETRICA Company.
I have held lectures for parents' associations, frontistiria, community centres, schools and businesses.


Ever since November 2019, I am a volunteer psychologist for the "Ark of the World", a voluntary non-profit organization for mother and child protection.I am also a member of H.S.C.G., the Hellenic Society of Counselling and Guidance.
More Specifically
March 2013 - March 2014
Relate Institute University of Hull, England
Postgraduate Diploma in Relationship Counselling
It consisted of 50 hours of practice on couples with a view to offering them guidance following the Systemic and Psychodynamic Approach.
October 1999 - July 2001
King's College, University of London, England
Postgraduate Diploma in Child-Art Psychotherapy for children and adolescents. Graduated with Honours.
It consisted of daily practice under supervision at the following institutions:
Educational Organization "Place to Be Good", Shepherd Primary School, Croydon
Child Psychiatric Clinic for children aged 0-8, Bloomfield Clinic, Guy's Hospital of London
Child Psychiatric Clinic for adolescents, Guy's Hospital of London
October 1995 - July 1999
University of Kent, England
Bachelor's Degree (ΒSc. Hons) on Applied Social with Clinical Psychology. Graduated with Merit (2.1)
From 23rd February 2021
Apart from my private practice I am also working as a psychologist for the Attica Region in order to handle and respond to urgent situations and emergencies.
In the specific post I am responsible for offering psychological support through a help line as well as taking part in events at the the hosting facilities of the Attica Region
July 2018 - May 2019
"Paidon Pleusi", Centre for Special Therapies - 407, Grigoriou Lampraki Avenue, Keratsini
Psychologist - Child Psychologist with specialization on both Child-Art Psychotherapy for Children and Adolescents and Parent Counselling.
March 2018 - April 2018
"Psychopedia", 98-100, Achillea Paraschou st., Ambelokipoi
1) Instructor of an educational programme on Art Therapy for children - Duration: 30 hours
2) Instructor of a fast-pace educational programme on Child-Art Therapy for children and adolescents - Duration: 27 hours
October 2015 - July 2017
British Hellenic College - 2, Rethymnou st.,Athens
I hold seminars on:
- Art Therapy for Children and Adolescents
- Relationship Counselling
- Work/Job Development
- Parent Counselling
September 2015
Frontistirion Charissis
Integration of a complete programme on the reinforcement, emotional development and support for children-adolescents.
April 2013 - June 2015
Frontistirion Charissis - Frontistirion Magoulas - Frontistirion "Synolo" - Frontistirion "Symvolo"
Vocational Orientation Counsellor
Announcement and analysis of the results of Vocational Guidance to adolescents with a view to discovering their inclinations and/or talents and their future profession.
Integration of a Parent Counselling programme
February 2009
Psychologist's Professional License (Listing Number 4914/05-02-09)
Member of the Pan-Hellenic Psychological Association
Member of Association of Greek Psychologists
Member of the Greek Association of Art Therapists
Member of the Association "Europa Donna Hellas" - European Federation Against Breast Cancer
Member of the British Psychological Society
July 2007
ISON PSYCHOMETRICA LLC - 31, Kifissias Avenue, Ambelokipoi, Athens
Special Counsellor
Instruction and implementation of a specialized educational programme for the Municipal Police of the City of Athens entitled "How to have a better communication with citizens"
May 2006
Certification Organization: IPAT (ISON Psychometrica)
Certified on the implementation and analysis of the specialized psychometric tests on Vocational Guidance 16PF, CAB, OVIS.
November 2002 - nowadays
Private practice at 25, Epidavrou st., Kifissia, Athens
Psychologist
Specialized on: Child-Art Psychotherapy, Psychodiagnostic Assessment, Vocational Guidance for Adolescents, Individual Counselling, Talent Management, Relationship Counselling
Long experience on the effective therapy of hundreds of children and adolescents with diagnosed emotional problems as well as behavioural problems using the method of Child-Art Psychotherapy. Parent Counselling and Psychological Assessment along with Psychological Support for Adolescents. Cooperation with the ISON PSYCHOMETRICA Company on the assessment and support of business executives.
September 1999 - July 2001
Children's Psychological Clinic, Psychoanalysis Institute, Tavistock Centre - London
Research Assistant
Difficult Patient Workshop - under the guidance of the famous psychoanalyst David Morgan
June 1995 - August 1997
Sismanogleio Hospital - Psychiatric Unit
Trainee Clinical Psychologist under the supervision of Assistant Professor, Mr Errikos Tzembelikos
31st January 2020 to 1st February 2020
Commercial and Industrial Chamber of Athens (EBEA)
Seminar entitled "Contemporary Changes and Challenges and the Role of the Counsellor"
December 2018
"Invelop Skills" - Centre of Lifelong Learning
June 2013
Greek Society of Adlerian Psychology
"Anger in the Marital Relationship" -Duration: 7 hours
May 2013
Minnesota Multiphasic Personality Inventory MMPI 2TM - Duration: 18 hours at ISON PSYCHOMETRICA Company
January 2013
"Mental Health and Couple Relationship" -Duration: 6 hours at Relate Institute
24th - 25th November 2012
Pan-Hellenic Association of Parent Education
Educational programme on emotional education for instructors and/or coordinators of parent-education groups - Duration: 10 educational hours
May - June 2012
Pan-Hellenic Association of Parent Education
Training Programme on Maria Chourdaki's evolutionary system for instructors and/or coordinators of parent-education groups - Duration: 40 educational hours
April 2012
Τhe American College of Greece - Deree
Life Coaching: "Lead the Life you Would Like to Have" - Duration: 12 hours
11the April 2012
Pan-Hellenic Psychological Association
"Psychological Interventions and Techniques to Support Individuals in Search of a Job" - Duration: 8 hours
29th January 2012
Pan-Hellenic Psychological Association
Psychologists' Specialized Instruction on Parent-Education Groups - Duration: 8 hours
March 2011
The American College of Greece-Deree
"Sports Psychology: Basic Principles" -Duration: 10 hours
November 2010
Certification Organization: ISON Psychometrica
"Introduction to Play Therapy" - Duration: 36 hours
2nd - 9th June 2006
Georgios Stathopoulos' Private Practice
"Individual Psychoanalytic Psychodrama for Adults" - Trainer: Georgios Stathopoulos, Clinical Psychologist - Duration: 87 hours
June 2005
"Asklipigeneia" Centre
"Mythology and Psychology: How Can Myth Change our Lives" - Duration: 6 hours
October 2003 - June 2004
Aiginiteio Hospital - Department of Cognitive Psychotherapy
"Cognitive Psychotherapy" - Duration: 1 year - Instructor/Trainer: Giannis Papakostas, Professor at the Psychiatric Clinic of the Aiginiteio Hospital
February 2002
Greek Association for Humanitarian and Integrative Therapeutical Counselling and Psychotherapy
"Addictions" - 1-day Conference
October 2001 - February 2002
Psychodiagnostic Psychotherapy and Speech Therapy Centre - Athens
"Theory and Implementation of the Thematic Apperception Tests T.A.T. for Adults and C.A.T. for Children"
January 2000 - April 2000
Institute of Psychoanalysis - Tavistock Centre, Children's Psychiatric Clinic - London
"Analysis of the Psychoanalytic Theory and Practice" - Duration: 40 hours
February 2000
156, Odessa Road - Forest Gate - London
Educational Programme: "Learning from Psychosis"
October 2000 - March 2001
Society of Analytical Psychology
"Basic Principles of Analytical Psychology" - Duration: 60 hours
10th - 11th June 1999
Brief Therapy Practice, London
Narrative Therapy from Michael White
May 1999
The British Psychological Society Division of Clinical Psychology
Cognitive Behavioural Therapy from Dr. Paul Salkovskis s
April 1998
Mindfield seminars - The European Therapy Studies Institute
"Recognizing Depression and Treating it Without Medication"
April 1998
George Turle's House Department of Child and Family Therapy
Systemic Family Therapy - Duration: 20 hours
18th - 22nd May 2015
Association of Psychology and Psychiatry for Adults & Children
"Latest Development on the Neuropsychiatric, Psychological and Social Sciences - The Family's Holistic Approach: Pre-requisite for Happiness" - Speaker: Elsa Dimopoulou
15th - 18th May 2003
Institute for the Research and Implementation of Mental Health Programmes
Pan-Hellenic Psychiatric Conference: "The Contribution of Art to Psychiatric Therapies"
7th - 9th February 2003
Pan-Hellenic General Hospital Psychiatric Society
"The Clinical Approach to Psychiatry" - 2nd Pan-Hellenic Psychiatric Conference at the General Hospital
11th - 14th September 1997
European Psychiatric Association - Division of Psychotherapy
"Psychotherapy in Europe: Trends and Practices"